SALMON's Holiday Donations Span Central Massachusetts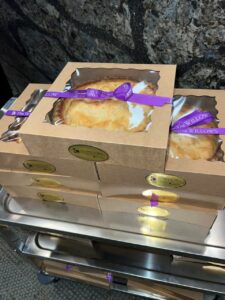 This year, SALMON Health and Retirement helped local food banks stock their shelves for Massachusetts families in need this holiday season. For everyone that toured one of SALMON's independent living, assisted living, or memory care communities through November, SALMON donated a homemade pie to a local foodbank in their name.
The Willows Active Retirement Community and Whitney Place Assisted Living & Memory Care, SALMON's independent, assisted living, and memory care communities, span the organization's portfolio in Medway, Natick, Northborough, Sharon, Westborough, and Worcester. The SALMON Staff were excited to show off their campuses to visitors while making a difference in the lives of local families in need.
Director of Sales, Arielle Hughes, at Whitney Place at Medway, says, "Over the course of 20 days, we hosted 20 tours, and donated 20 homemade pies to the Medway Food Pantry. It meant so much to show off our campus to visitors who also wanted to make a difference in the lives of local families in need."
In total, the SALMON Westborough campus donated 16 pies to the Westborough Food Pantry, and another 12 pies to Westborough Fire & Police; Worcester campus donated 27 pies to the Worcester County Food Bank; the Sharon campus donated 15 pies to Ilse Marks Food Pantry; the Northborough campus donated 10 pies to the Northborough Food Pantry, and the Natick campus donated 5 pies to the Hope Food Pantry.
Fostering support and connection between SALMON and their surrounding communities remains a clear part of their mission to providing happier, richer lives to all they serve – and any opportunity they have to give back is one they will take.
---