2021 Whitney Place Assisted Living at Sharon Wiffle Ball Game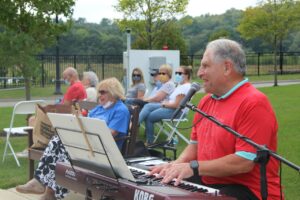 The sun was high in the clear blue sky on the afternoon of Wednesday, September 15, as a crowd of Residents and Staff gathered for the 2021 Wiffle Ball Game at Whitney Place Assisted Living in Sharon. The announcer played traditional baseball tunes on the keys as the teams settled in.
The players wore crafted homemade T-shirts with their team names drawn across the chest. The SALMON Sluggers wore blue T-shirts, and the SALMON Wildcats wore red. Among the crowd, some cheerleader Residents waved homemade pompoms in excitement as SALMON Staff finished drawing the bases in chalk, handed out light refreshments, and assigned "base runners" for the players who were unable to run the bases themselves.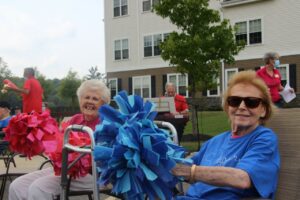 Once the players, cheerleaders, and audience settled in, a veteran Resident took to the mound to throw the first pitch straight over home plate. And so, the game began. The SALMON Wildcats took to the field first, guarding the bases. The SALMON Sluggers were certainly up to the challenge, evident when the first player hit a homerun and quickly brought in the first of six  points earned by the Sluggers during the first inning.
The Wildcats responded by hitting multiple homeruns, the ball arched high over the fence and into the woods, totaling five points by the time the second inning was over.
As the game ensued, the teams remained neck and  neck, keeping all the audience members on the edge of their seats, shouting out in support of their favorite team and players.
The traditional baseball tunes continued as the MC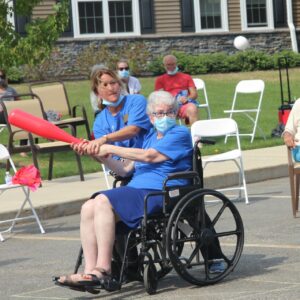 narrated the game plays: exciting homeruns, hits, and misses. The SALMON Staff who played alongside the Residents worked diligently to ensure all Resident players had a chance to put bat to ball.
The fierce and fun 2021 Wiffle Ball Game encouraged teamwork and an enjoyable pastime for the dedicated staff and Residents at Whitney Place. The Sharon community is dedicated to making this an annual event that continues to commit to our organization's values; delivering a healthier, richer life for those we serve.
---