Celebrating the Tokyo Summer Olympics at SALMON Health and Retirement
The world seemed to go quiet when the COVID-19 Pandemic began last year, but today our communities are alive and buzzing with excitement. The Olympics are happening, and people across the world are coming together to celebrate.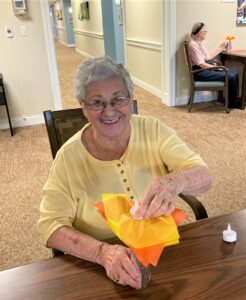 Last summer, SALMON Health and Retirement and our Residents chose to celebrate the Walk to End Alzheimer's and the Boston Marathon. Whether we were clocking miles, or celebrating movement and exercise, everyone got involved. It was a bright spot, bringing the community together in a way that gave Residents a sense of pride and excitement during an unprecedented time of social distancing. We wanted to bring that same energy into celebrating the Tokyo Summer Olympics.
Rather than celebrate only one Olympic team, SALMON Health and Retirement and our Residents are observing the Olympics as an international celebration after so many months of worldwide lockdown. Cuisine from across the globe was served on our campuses, connecting our Residents to the countries competing in the Olympics, while engaging the senses. For some, that meant trying foods entirely unfamiliar. For others, it meant reminiscing on international travel experiences from long ago.
Each campus has its own Olympics poster chart on display in
high-traffic zones, so everyone can stay up to date on the Olympic events of the day, which athletes are participating, and how each Olympic team is doing in the competition. Some campuses have even started hosting Olympic-themed activities to get Residents involved, like ball-toss, and creating Olympic torches. Viewing parties allow Residents to watch opening ceremonies, game highlights and recaps. In the evenings, Residents enjoy witnessing competitions in real time, where the peak of excitement and suspense meet.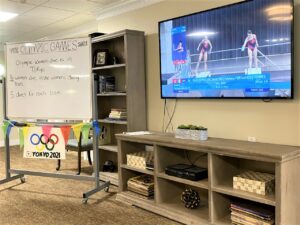 "These celebrations give our Residents a sense of community within the world," says SALMON's Tapestry Program Director Diane Tonelli. She continues, "It reminds all of us that we are part of something bigger. By viewing the Olympics as a worldly event, it doesn't matter who wins the gold, silver, or bronze medals, there is always something to celebrate." The human experience is out on display as we ride the highs and lows of lifetime athletes achieving their dreams. Tonelli reflects, "It's great to have positive and exciting events each day after a year of lockdown. The excitement and celebration has put everyone in good spirits, which is a crucial aspect of overall health."
As an organization, the care and well-being of each one of our Residents is most important to us. By celebrating the Tokyo Summer Olympics in this way, we maintain the organization's values to deliver a healthier, richer life for those we serve.
---